Wake-up Call
At 5:15am, we hear a soft knock and the buzz of the tent zipper rising. Our wake-up call. A friendly tent host greets us with instant coffee and hot chocolate in hand.
We are at the Tandu Tula safari camp, a magical place located just outside of Krueger National park on its own private reserve.
By 5:45 the safari trucks will be off and running, each hoping to be the first to spot one of the Big Five: African lion, African elephant, Cape buffalo, African leopard, and rhinoceros. It is immediately clear that the jeep guides live for these moments, and if you are lucky enough, in this moment, you live for them too.
Though the morning has come quickly, it doesn't take long for everyone to jump in their jeeps and take off for the bush. The calls from other guides start to come in—a leopard has been spotted. "Where?" our driver says. "How Far?" He turns to us with that melodious South African accent. "Do you want to try and catch it?" Absolutely we yell!
Every day you take two rides—one in the morning and the second before sunset. With the sun shining on your face, the clean air rushing by, and the purr of the jeep engine your constant companion, the drive itself is hypnotic, taking you into another world completely.
As the air roars through my ears, I am deprived of my sense of hearing so my eyes become more attuned to the surroundings. The texture of the brush, prickly in some areas, soft in others. The variety of colors and shades that change as the light travels with you. The sun, always visible, either rising to greet you or saying goodnight.
The Big Five are not the only animals to amaze you. I've never seen such a variety of beautiful birds, spiders, and bugs in my life. The wild dogs and hyenas, knowing they have to scavenger every day just to survive, and they can only survive if they stay together, left me feeling admiration. The zebras and giraffes were by far the most magical to photograph.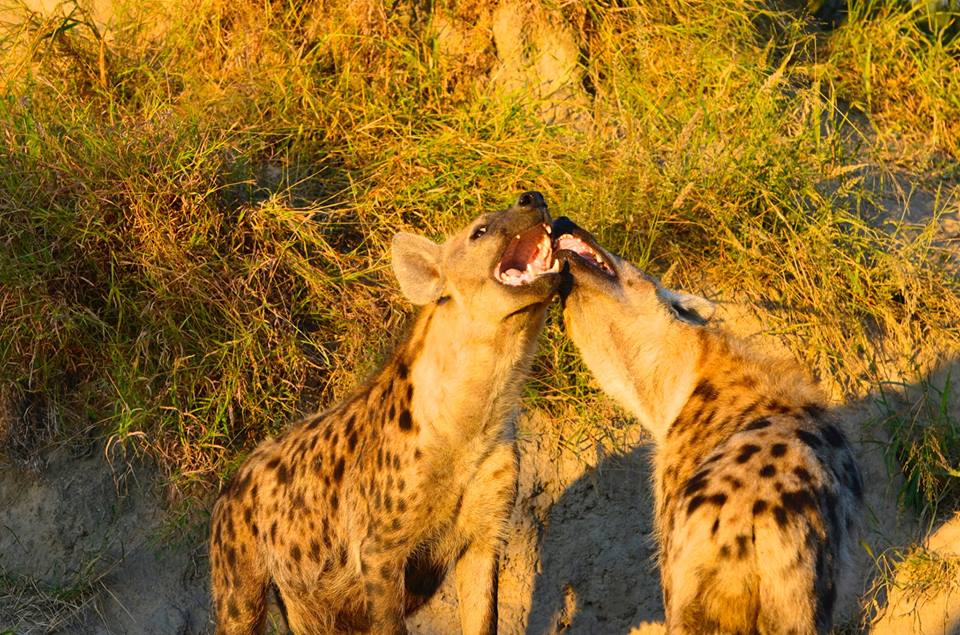 Beyond trekking the animals, my favorite ritual during a safari is stopping for snacks and drinks during sunset. There is something about the color of the sky casting its shadows on the earth as it makes it way down that feels like a dream.
During one drive we sat quietly for what must have an hour, watching a herd of buffalos make their way to the water hole for their nightly drink. There looked to be a hundred of them, moving quietly and deftly towards the water, barely noticing us nearby. The kids didn't say a word, they were mesmerized.
On the morning of our last ride, I looked over to see Raegan napping on her daddy's lap. It ached me not to wake her. I missed her joy and enchantment immediately. She suddenly wakes, with a noticeable mark on her face from a jacket string or belt buckle and a little drool pooling around her lips. She is back with us, full of life, waiting intently on the edge of her seat for the next magical moment to come.
As the jeep makes it last turn toward the lodge every morning, you can immediately smell the large bush breakfast not far away. Your mouth starts to water. I would close my eyes, take a deep breath, and feel nothing but gratitude for the wake-up call that made possible such a magical day.